Are you one of the millions of Americans affected by thinning hair or hair loss? According to the American Academy of Dermatology, approximately 30 million women and 50 million men in the United States have hereditary hair loss. This does not include the millions more who struggle with thinning hair because of stress and other health conditions. 
You can regain your hair and your confidence with advanced hair restoration techniques. 
Advances in research and technology have cited regenerative medicine techniques as some of the most effective non-surgical therapies to restore hair loss. We employ groundbreaking techniques to help both men and women regain their hair naturally through biological-based approaches.
We believe in a natural and non-surgical approach to hair regeneration. Our procedures target tissues on the scalp, so they are especially beneficial for stimulating hair growth where hair thinning or hair loss is present. 
Our quick, in-office Hair Restoration treatments stimulate new hair growth through a minimally invasive and non-surgical procedure. They require no downtime and are nearly painless. Results are typically seen within the first six months of application.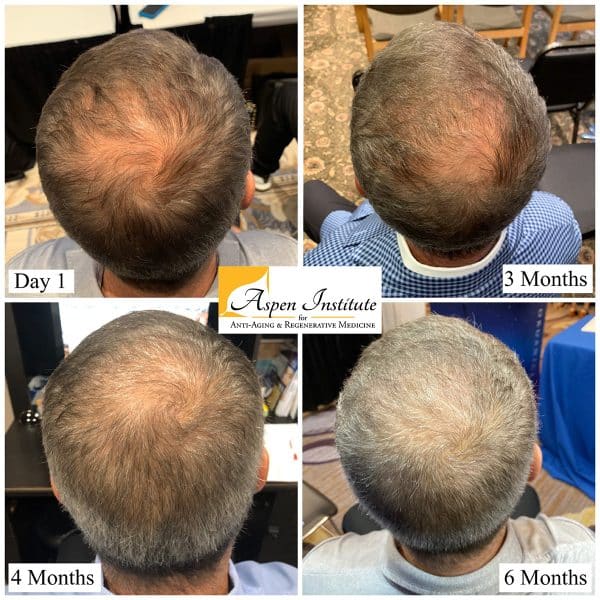 Are you a candidate for hair restoration with regenerative medicine?
Our hair regeneration treatments can restore hair in both men and women, encouraging new hair growth that looks natural and healthy. It restores a youthful appearance without invasive and painful surgery. You may be a candidate for therapy if:
You have thinning hair.

You have hair loss.

You want to take a natural, non-surgical approach to hair restoration.

You have tried other hair regrowth treatments with little or no success.
At the Aspen Institute for Anti-Aging and Regenerative Medicine, we are passionate about helping you find a safe, effective, non-surgical solution for thinning hair and hair loss. If you are ready to learn if you are a candidate for hair regeneration, connect with us today.
For more information or an appointment: